As of October 2018, the Curaçao Growth Fund is the proud co-shareholder of Celery; one of the main and most important providers of payroll and HRM software in the Caribbean region. Celery has experienced significant growth in recent years and has a very good reputation in the region when it comes to salary processing and HR management.
The existing shareholders, Matthew Verhage and Felix Langfeldt, who have made the company great in recent years, remain intensively involved in the further development of the company. With the participation of the Curacao Growth Fund, Celery has gained an even stronger basis to serve its customers well and to expand its activities considerably in the coming years.
Celery is an online payroll and HR software, specially made for Curaçao, Aruba, Sint Maarten, Suriname, and the BES islands. The Curaçao company has been active on the market for five years and has now built up a beautiful customer portfolio with names such as Baker Tilly, BDO, CHB, CPC, HBN Law, Janssen de Jong Caribbean, NAGICO Sint Maarten, Papagayo, Santa Barbara Beach & Golf Resort, Pizzahut, Subway, KFC and many more.
With Celery, companies can quickly and easily process online salaries in accordance with the most recent laws and regulations. The software is always up to date and guaranteed safe. Celery has been expanded with an HRM module since the end of 2017. This module can additionally be linked to the Celery software so that HR matters can also be easily managed.
For the Curaçao Growth Fund, the participation was a unique opportunity to become active in one of the major industries; software as a service. Erik Baas and Justus Martens are pleased with the participation: "Our fund, and our main investor APC, are always looking for local companies with regional growth potential. Celery is such a company, and we are convinced that the strong management team, with our support, will help the company grow faster and further in the coming years."
---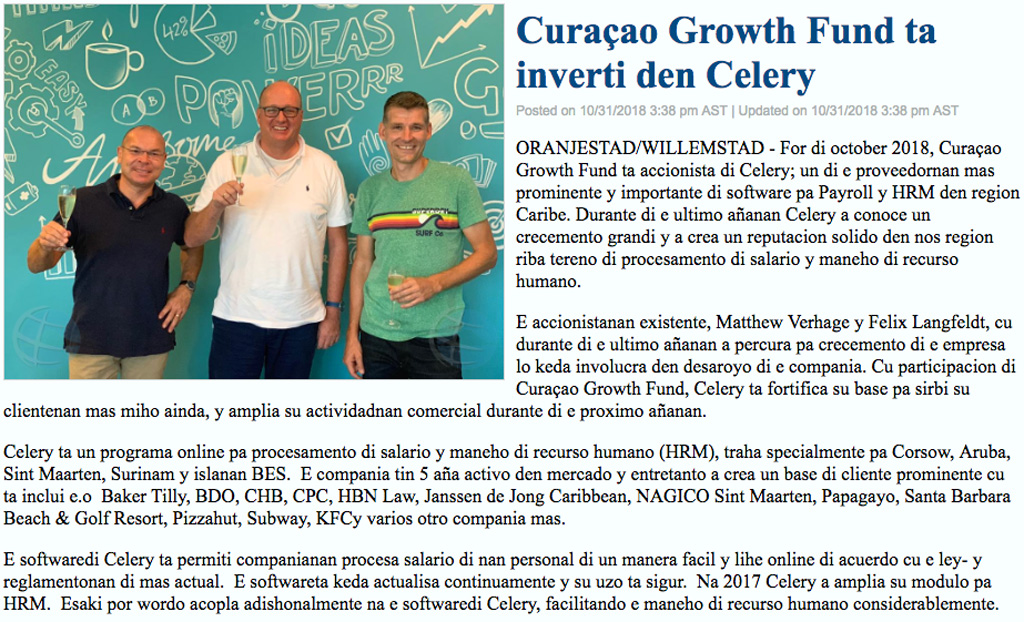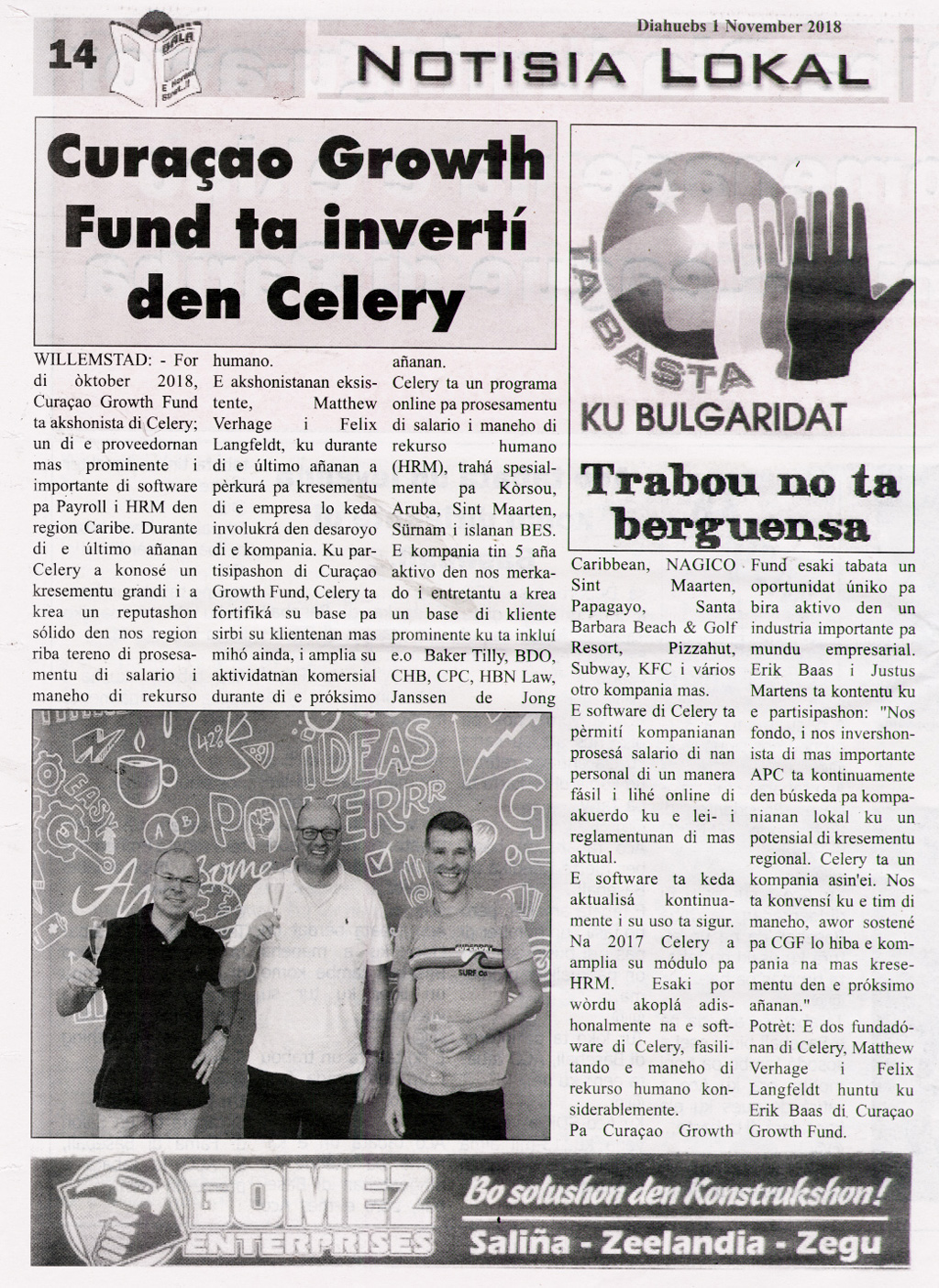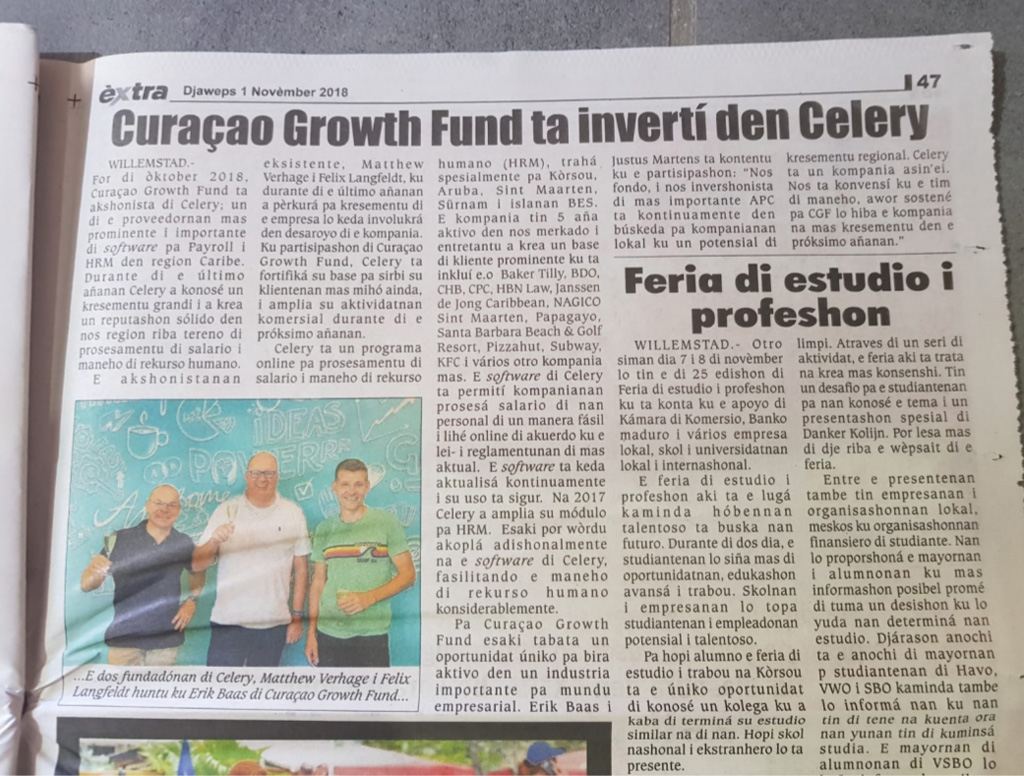 ---
[photo: The two founders of Celery, Matthew Verhage and Felix Langfeldt together with Erik Baas of the Curaçao Growth Fund.]